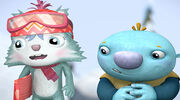 Betty Yeti is a snow-boarding female yeti who is seen in several episodes. She is a good friend of Wally.
She has been considered 'good with snow' by Wally. This is due to great experience in the snow and this has effected her ease of mobility in the snowy regions. This is further supported by her skill on a snowboard, specialized waffle-grooved feet for traction and her knowledge of the mountains. We see this in the episode 'Snow Place Like Home'. She is also known to excel at other board sports including skateboarding, being refereed by Wally as 'really good'.
Betty has a cool, enthusiastic and positive attitude to everything, once stating that everything is awesome from the trees to the icicles. Wally further stated that Betty has warm words, thus implying that Betty is ultimately a friendly being. She somewhat resembles a 'tomboy' due to her physique and interests. Betty Yeti constantly uses snow-related puns. Her Full name is revealed to be Elizabeth Yeti by Bobgoblin shown in The Goblin Cold.
Betty sings with a strong voice and a wide vocal range, and also sings soprano if she duos with Wally. She also plays the recorder as seen in the episode "Rock and Troll". She states that she plays recorder at school, but despite the unskilled venue, she is seen playing complex blues runs on the instrument like a professional. She is voiced by the actress Andie Mechanic. She is in several episodes of the show and sings in most of her appearances.